Dome Lighting Finishes Guidebook
A Guide to Popular Dome Lighting Color Combinations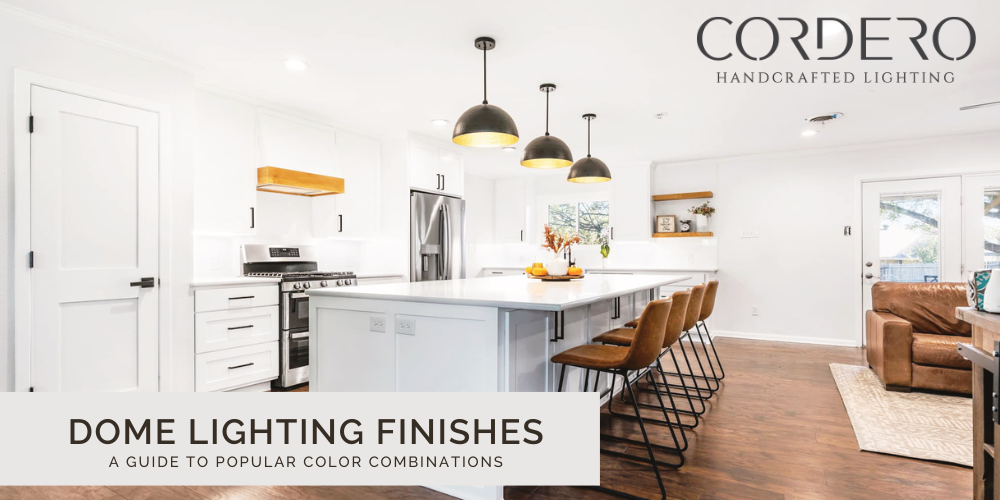 Welcome to the world of Dome Lighting – let's dig into light fixture finishes and the most popular combinations shipped out of our shop. At Cordero Handcrafted Lighting, we believe lighting is the unsung hero of any space – it sets the mood, creates ambiance, and adds a touch of personality that reflects your unique style.
One question we get frequently is "How do I choose my Dome Lighting finish color combo?" The combinations are endless, but we aim to keep it simple and offer a few tips and guidelines to follow when choosing your dome light finish combination.
WHAT OTHER HARDWARE FINISHES ARE PRESENT?
Consider the finishes of other hardware elements in the room (cabinet handles, door knobs, other lighting fixtures)

Matching your Dome Pendant Fixture to these finishes can help create a cohesive color scheme

Consider whether the other finishes in the space are cool or warm tones

Cool tones, like Silver, can give a fresh and modern feel to a space

Warm tones, like Copper or Bronze, can add warmth and richness to brighter spaces

Mixing and matching warm and cool tones can create a balanced and rich color palette
DO YOU HAVE NATURAL LIGHT AND HOW MUCH?
Consider the amount of natural light in the room and the direction of the windows

If the room receives a lot of natural light, choose an interior finish that reflects sunlight beautifully

Warm metallic finishes, like Copper and Gold, can add warmth and radiance to the space, making it feel cozy and inviting

If the room doesn't receive much natural light, choose a brighter interior finish

Brighter colors, like Satin Pebble, French Cream, or Satin White, can maximize the available light and make the room feel more open and airy
AESTHETICS OR IMPROVED LIGHTING?
Decide whether aesthetics or improved lighting is your top priority

For a warm and inviting ambiance, choose a warm interior finish color

For improved lighting quality, choose a brighter interior finish color for your dome pendant
DOME LIGHTING COMBINATIONS TO INSPIRE
Here are several of our finish combinations, starting with the most popular, click the arrows (or swipe on mobile) to advance to the next finish option. Download our full Dome Lighting Guidebook Here.
At the end of the day, we are here to help you select the right finishes for your dome pendant! If you have any questions or need additional help figuring out the perfect finish for your lighting fixtures, don't hesitate to reach out to us at: hello@corderolighting.com. We're here to help brighten your space that you'll love for years to come! And don't forget to send us pictures of your installed Dome Light Fixtures, we love to brag about our client's beautiful spaces!