With brilliant metallic curves and rich hand-hammered texture, the White Dominion Hammered Dome is an unmistakably bold yet elegant lighting statement ready to complement your next home or business. The Dominion's form and finish create a radiant glow that swims around the hammered interior then gently spills across your dining table or home setting. Elevate your next space with this resplendence mix of beauty and function.
Details:
Now Available in 2 Sizes!
Size Options:
• 20″ Diameter | 10″ Height
• 24″ Diameter | 12″ Height
Exterior Finish: Satin White Finish
Interior Finish Options:
• Gold
• Copper
• Satin White
Bulb Options:
• Single 60 Watt Edison (400 Lumens)
• Double 60 Watt Edison (2x 400 Lumens)
• LED Bulb – 100 Watt Equivalent (1600 Lumens / 17 watts)
Socket Options:
• External Option – Brushed Brass Metal Uno Threaded Keyless Socket – E-26 Base
• Internal Option – Metal Socket Cup featuring Porcelain Socket – E-26 Base
• Dimmable
• Hardwire
• Metal: Aluminum
• May be mounted on a vaulted ceiling
• Total Rod Length: 36″
• Canopy – 5″ Diameter
• Hardware: (2) 12″ rods & (2) 6″ rods – Easy to adjust to the perfect pendant height (*cord or chain available – contact prior)
This item is artisan crafted with meticulous care. Given its handmade and hand-finished nature, variations in the metal are to be expected and celebrated. Each item is unique.
Wipe with a soft, damp cloth; avoid the use of all cleaners and abrasives, as they will damage the finish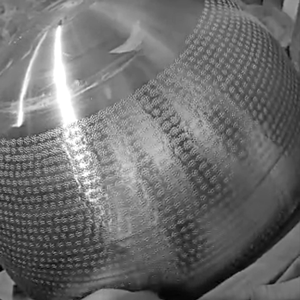 Precision and a steady hand truly make each hammered dome shade a unique work of art.
To learn more about who we are and what we do, visit: OUR STORY