Shedding Light on Your Kitchen Island: A Guide to Selecting the Right Light Fixture Size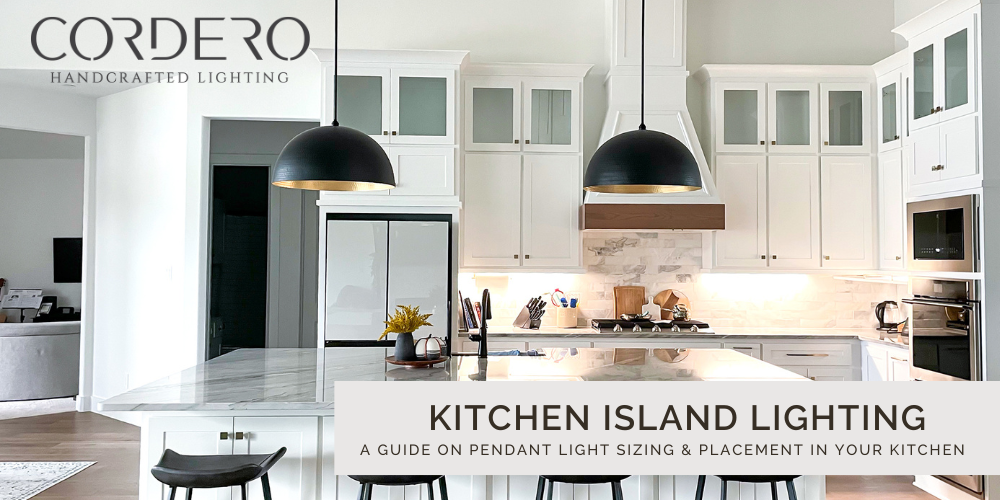 The anchor of everyone's kitchen is undoubtedly the island! It's the MVP (Most Valuable Piece of Furniture) that brings together meal prep, family conversations, and occasional dance moves while waiting for the water to boil. Now, picture this: you've got the perfect countertop, the coziest bar stools, and a breathtaking backsplash. But what about the lighting? Selecting the right light fixture size for your kitchen island is crucial… and yes it can be a bit tricky!
Below, we'll delve into key considerations for choosing the ideal fixture size. From scale and clearance to the "Don't Hit Your Head Test" and visualization techniques, we've got you covered with tips to help you make the right decision. Let's brighten up your island and make your kitchen shine! You can view and download our full guide here (with kitchen lookbook).
HOW MANY LIGHT FIXTURE PENDANTS SHOULD I GET & WHAT SIZE?
Determining the number and size of the pendants for your kitchen island is closely tied to the island's dimensions. The size, quantity, and spacing of your pendant lights all depend on the size of the island itself. Here are our recommendations to help you get started. Take a look at our dome pendant light fixture options.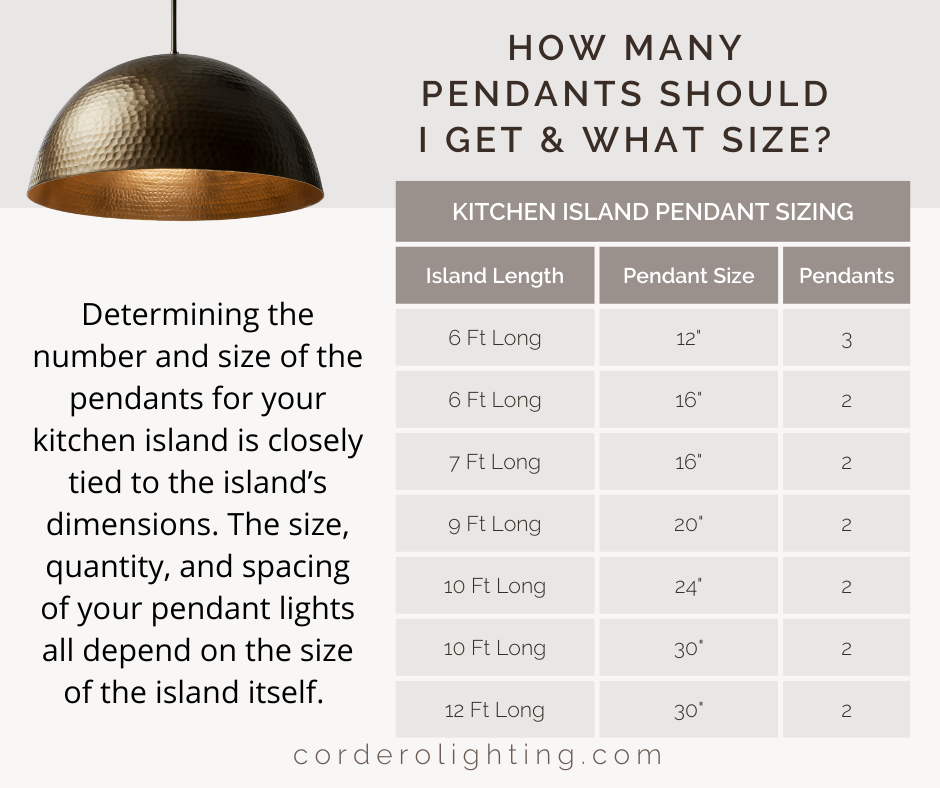 WHERE OVER THE ISLAND SHOULD I PLACE MY LIGHT FIXTURE PENDANTS OVER MY KITCHEN ISLAND?
There is no exact science, but we do have a few guidelines to help get you to the right answer for your size kitchen island.
Hang your pendants 30"-36" from the top of the countertop

This should be between 66"-72" from the floor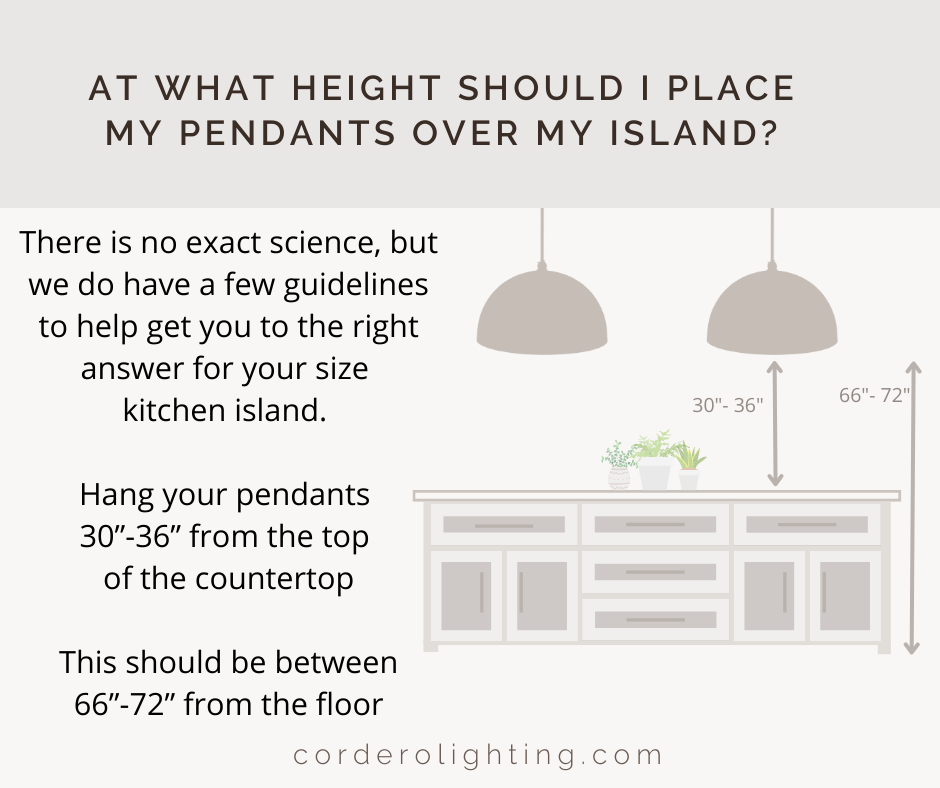 HOW FAR APART SHOULD I PLACE MY LIGHT FIXTURE PENDANTS?
Follow this simple EASY PENDANT PLACING MATH to help guide you through positioning your pendants over your kitchen island: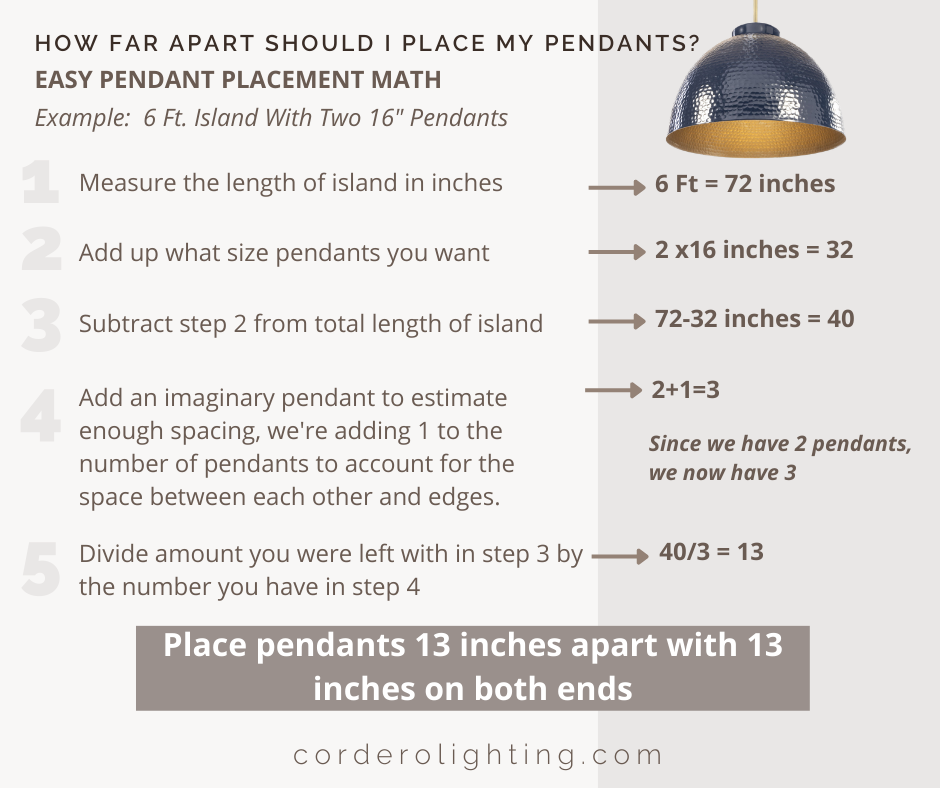 DOME LIGHT FIXTURE INSPIRATION
Take a look through some of our client's kitchens with different island sizes. There is no right answer. There is no right math. Use our advice as guidelines to make the best selection for your space! Need more inspiration? Take a look at our Dome Lighting Finishes Guide and shop our Cordero Handcrafted Dome Light Fixtures.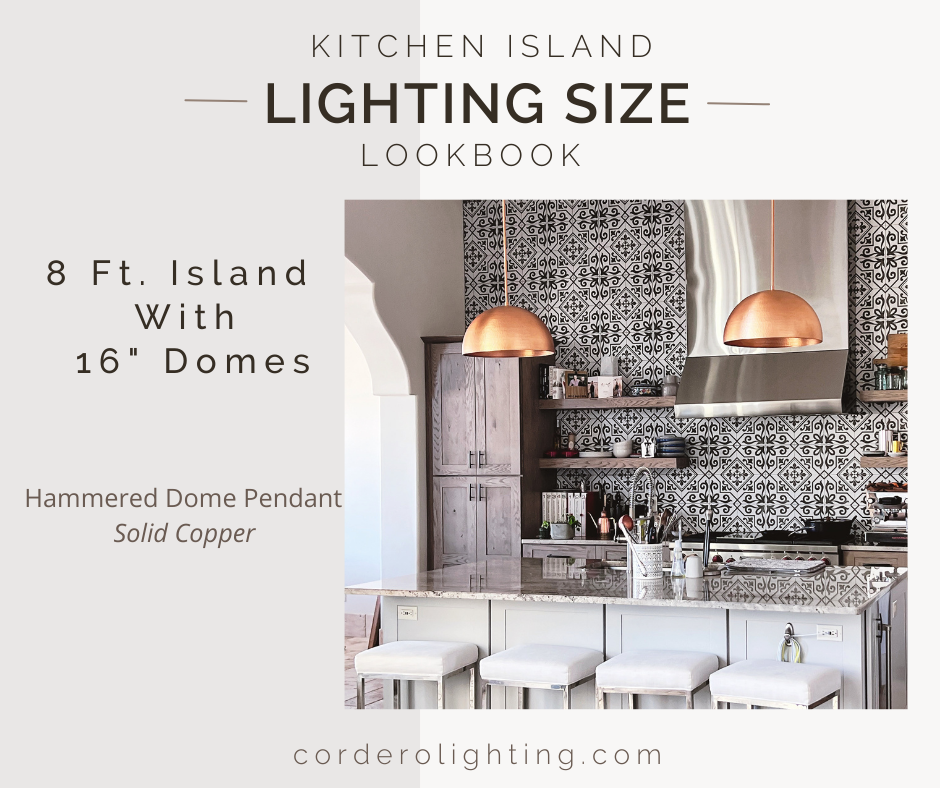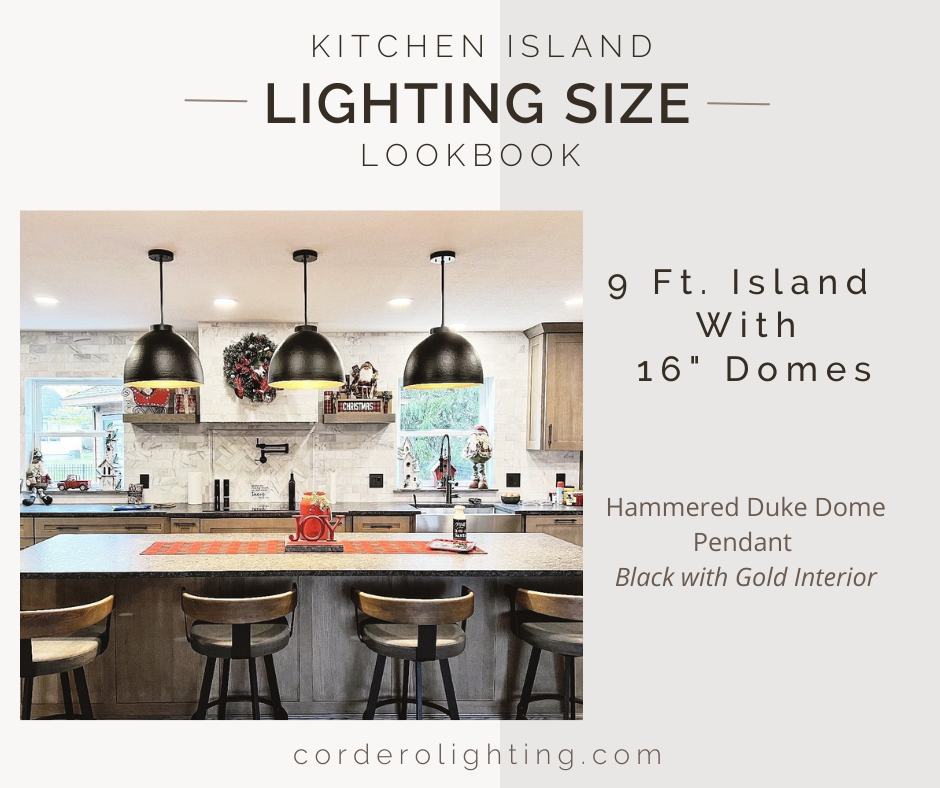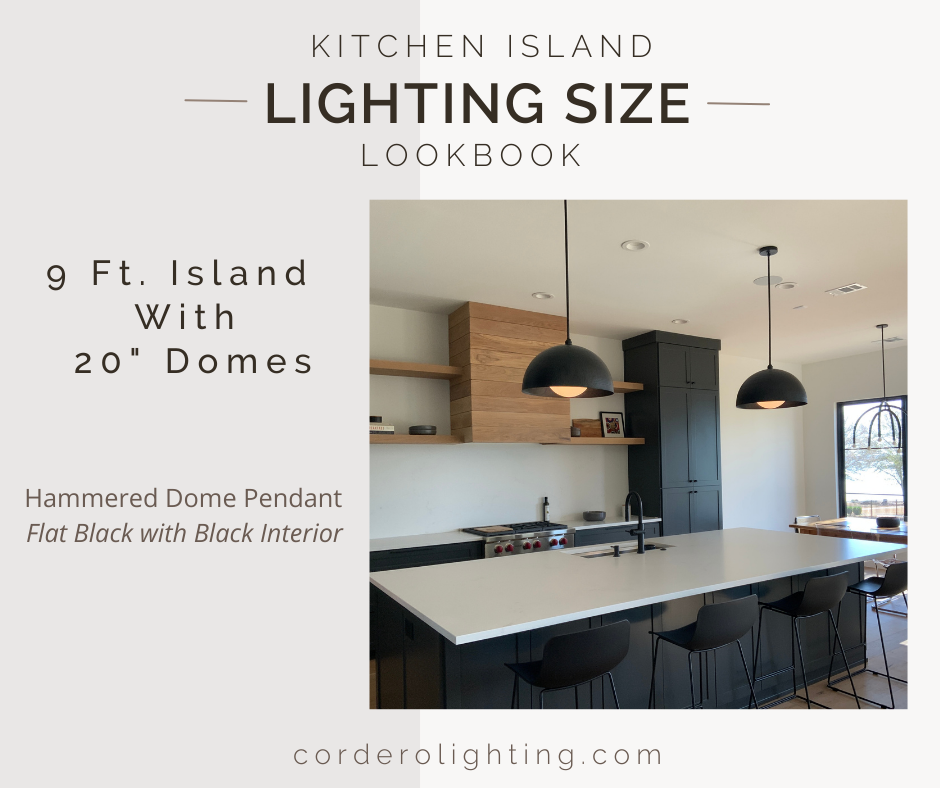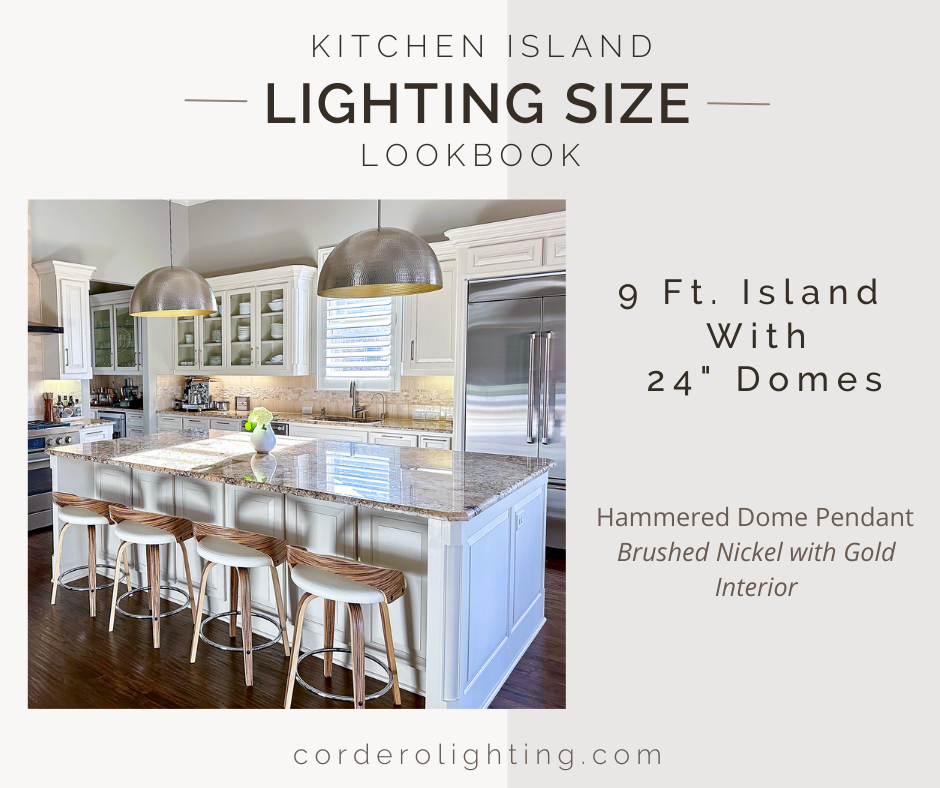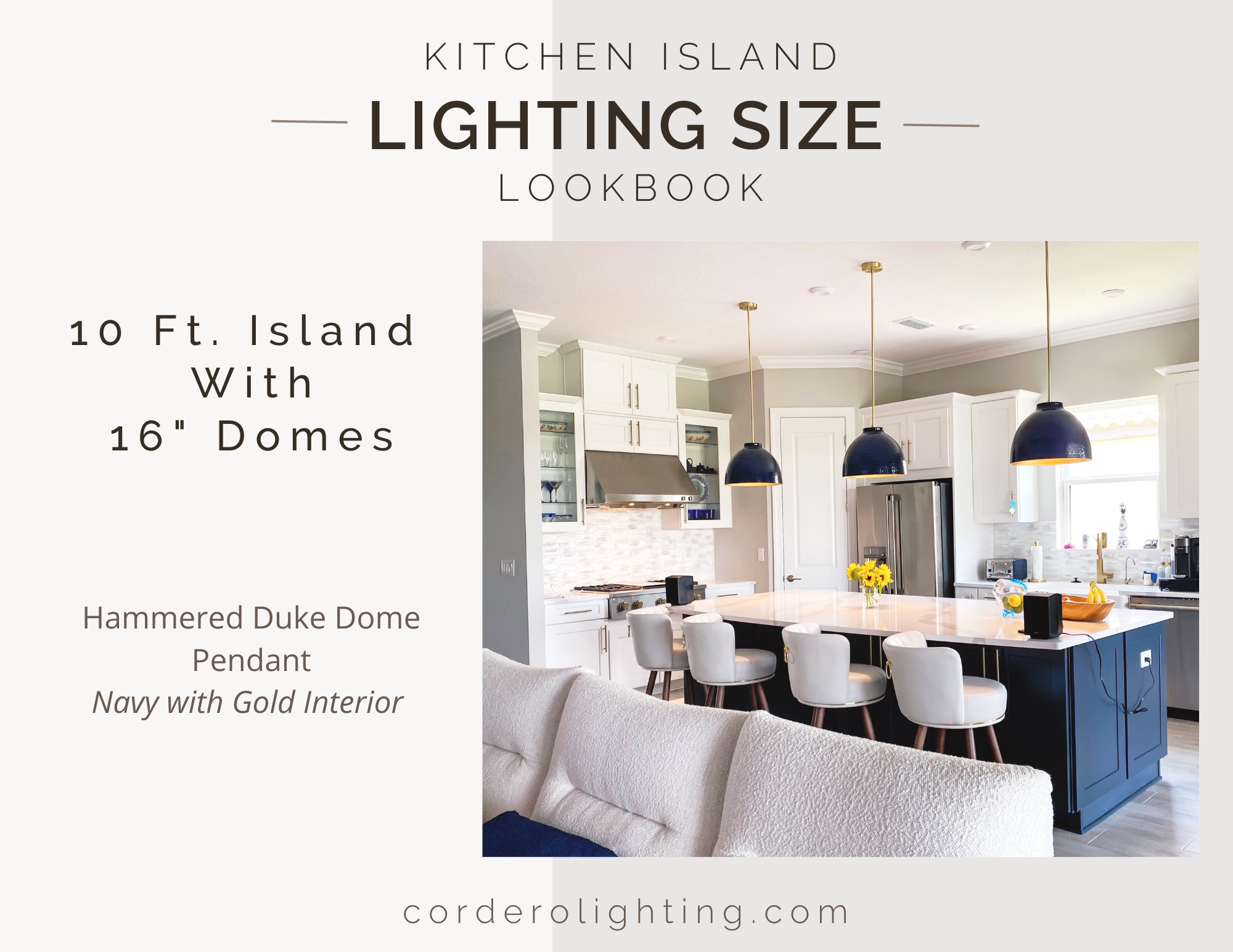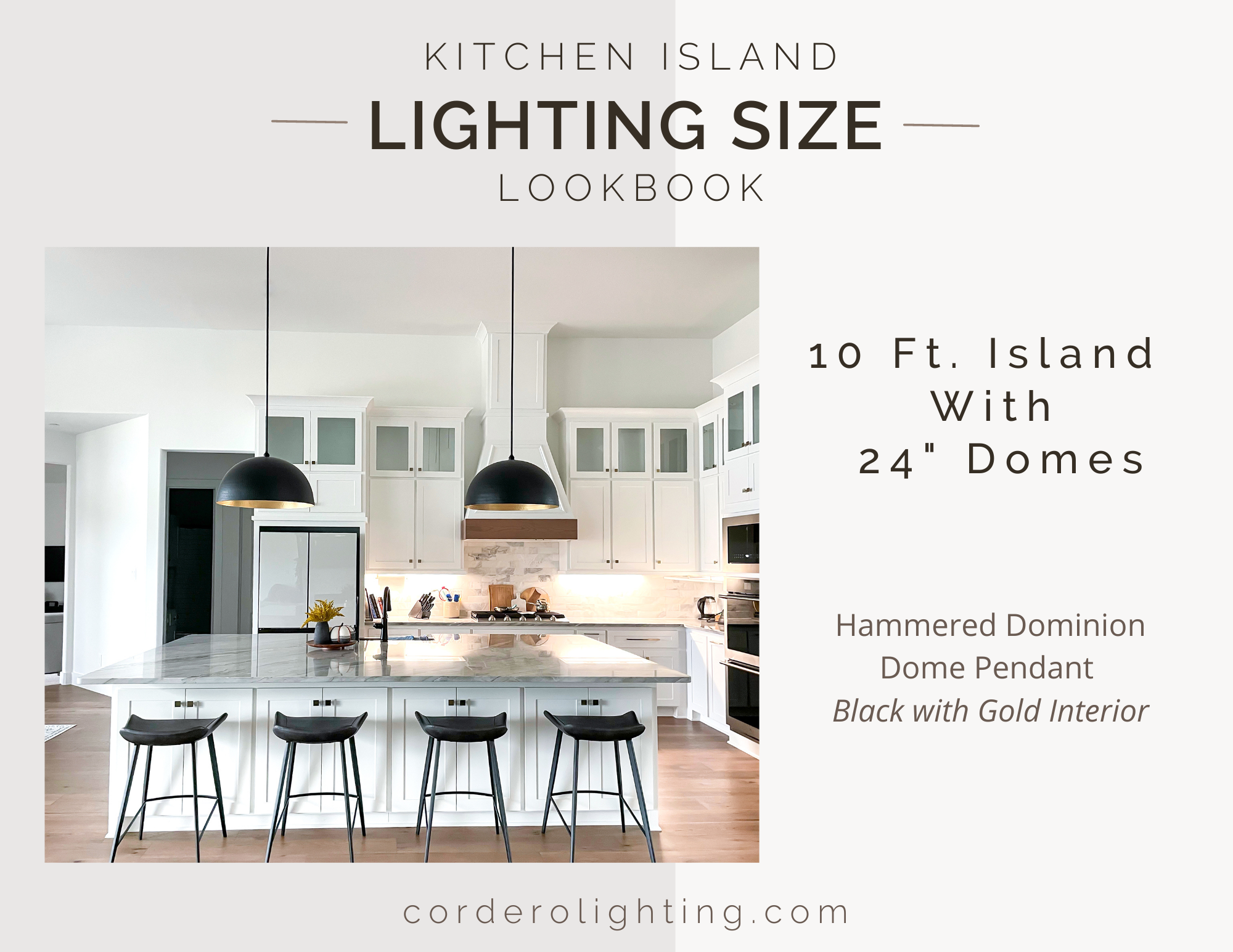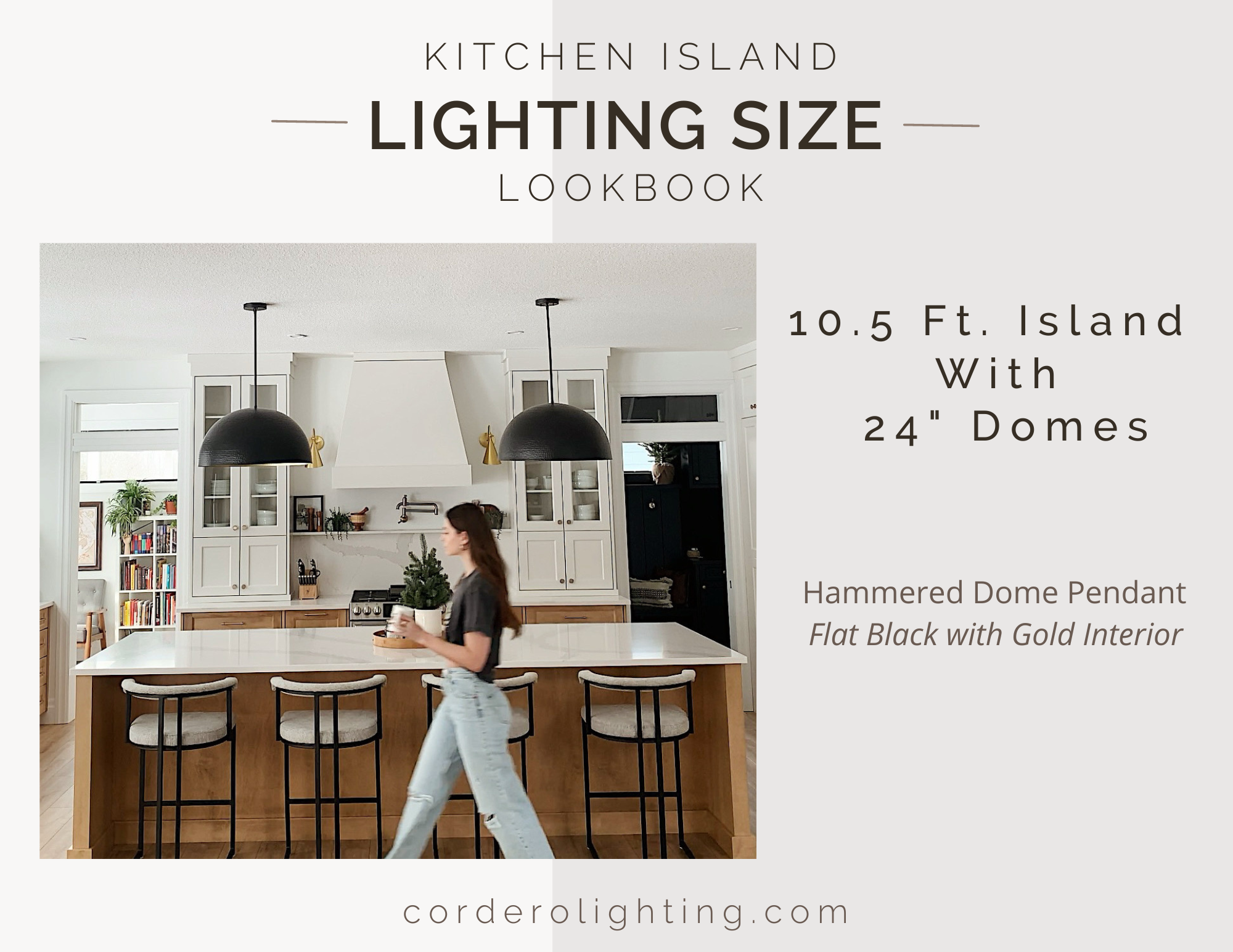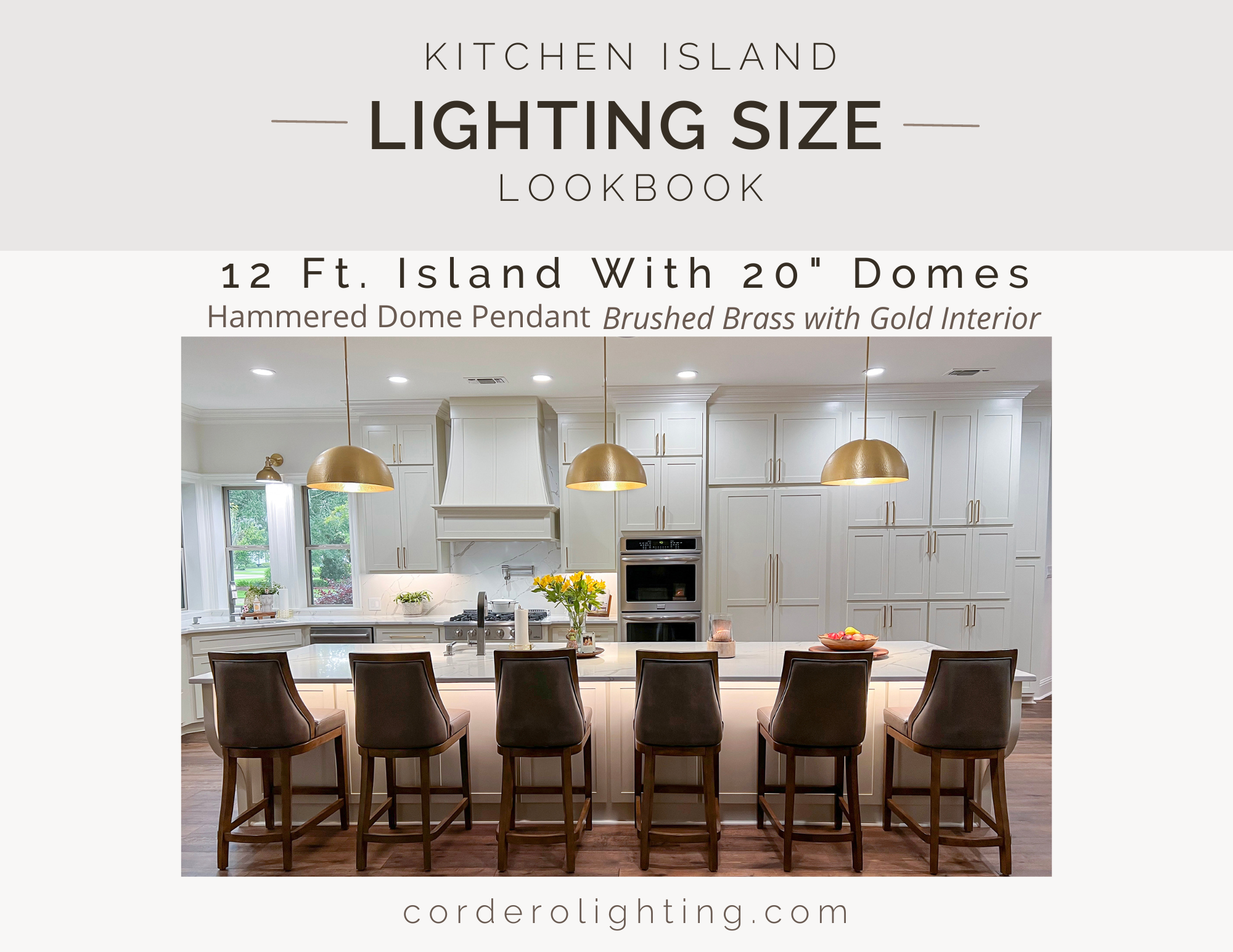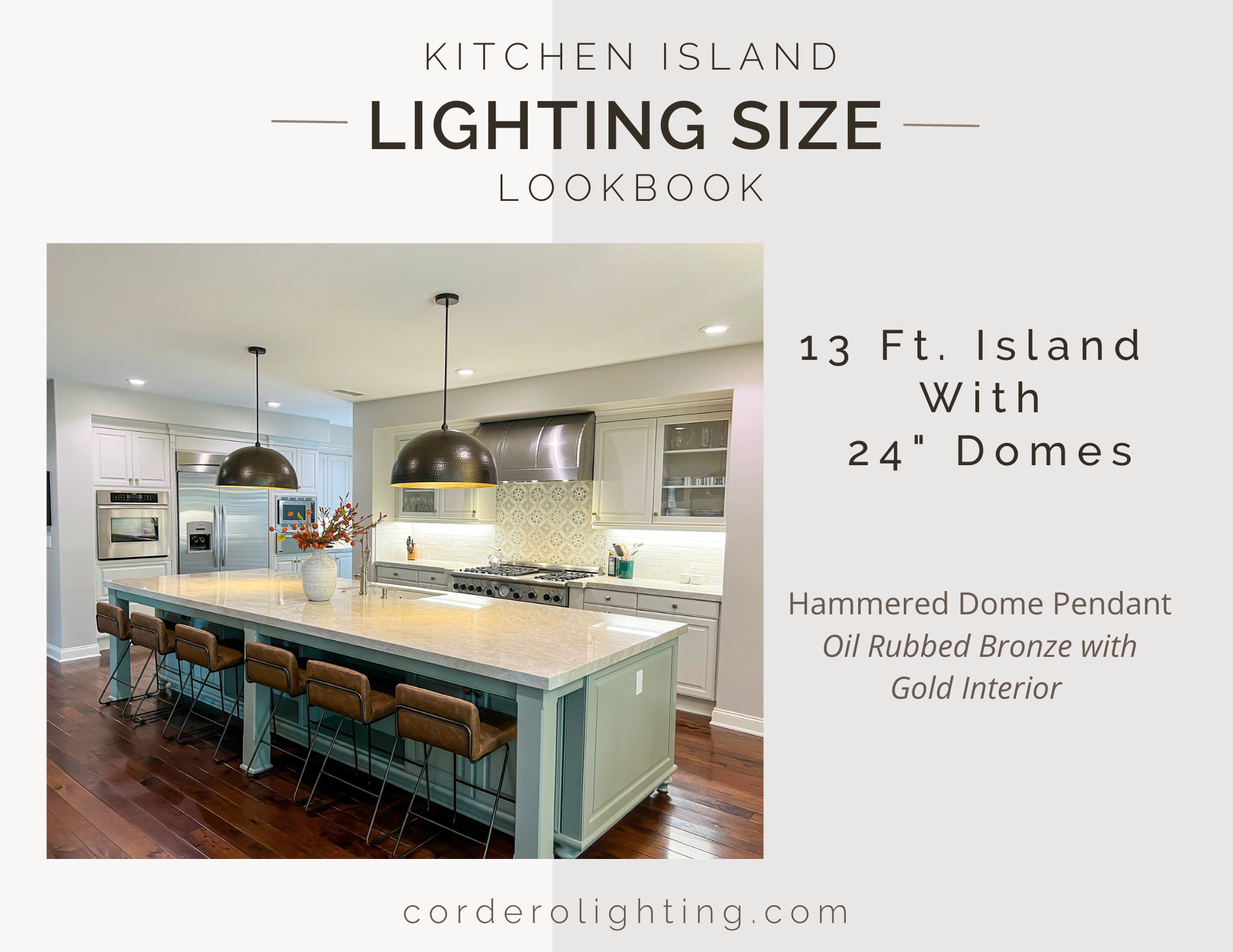 EVERY HOUSE IS DIFFERENT. DIFFERENT CEILING HEIGHTS & DIFFERENT FAMILY HEIGHTS.
Now with those guidelines laid out, let's keep in mind that every house is different. Different ceiling heights and different family heights.
CLEARANCE:

Overall height of the kitchen ceiling, island height, and length of the pendant are important to factor in. For example, do you have vaulted ceilings? Depending on which way the ceiling vault is, it will be very difficult to line your pendant fixtures up perfectly with rods. The only way to ensure appropriate drop will be to use a cord or chain.
DON'T HIT YOUR HEAD TEST:

Avoid the glaring lights and potential head-bumping incidents by considering the height of the fixtures. We affectionately call it the "Don't Hit Your Head Test" because, well, it's always a good idea to keep your head intact! Take into account the height of your family members, especially if you have a husband who is 6'4". Adjusting the light height accordingly will help create a safe and enjoyable environment for everyone in the kitchen.

VISUALIZE:

To get a better sense of how the light fixture will fit into your kitchen space, consider visualizing it before making a final decision. Here's a simple technique: take a paper grocery bag and cut out a circle in the diameter you have in mind for the fixture. Then, hang the cut-out (or even a balloon) from a string taped to the ceiling. This will give you a clear idea of how much space the light fixture will occupy and how it will relate to your workspace.
Remember, these are just general guidelines to help you get started with choosing the right size lighting fixtures! Our advice is to pick pendants that are big enough for your island (see chart above) and go from there. Do the math, visualize and see if it fits! But ultimately, get the pendants that you LOVE! Our CHL team is here to help in any way we can, shoot us a message if you have questions at hello@corderolighting.com